Main content starts here, tab to start navigating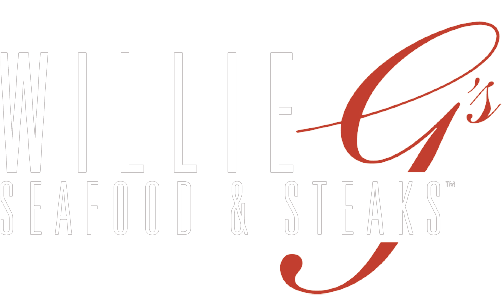 View Menu
Slide 1 of 4
Slide 2 of 4
Slide 3 of 4
Slide 4 of 4
Hours & Location
2100 Harborside,
Galveston, TX 77550
(409) 762-3030
SUN - SAT: 11:00 AM - 9:00 PM

Holiday Hours
Sat, Dec 24, 2022: 11:00 AM - 8:00 PM
Sun, Dec 25, 2022: Closed
Sat, Dec 31, 2022: 11:00 AM - 9:00 PM
Sun, Jan 1, 2023: 12:00 PM - 9:00 PM
Our Story
Located on Pier 21, Willie G's is Galveston's most popular seafood destination with waterfront dining. Offering fresh seafood and steaks in an elegant setting, the experience cannot be matched. Guests admire scenic views of the ships coming into the harbor and request a seat on the patio year-round.
Willie G's, one of Landry's original concepts, has been one of Houston's favorite seafood restaurants in the city's dynamic Galleria area since 1981. Willie G's is a preferred watering hole for top athletes and entertainers who reside in and visit Houston. Based on the successful reputation of the original Willie G's in Houston, CEO Tilman Fertitta opened Willie G's in Galveston in May of 1993.
Menus
Raw Bar & Shellfish
Seared Peppered Tuna Rolls

Ahi tuna, avocado, cucumber, wasabi cream & soy sauce

$19

Shrimp Cocktail

Served with cocktail & remoulade sauce

$17

Oysters on the Half Shell

(Fresh from the bay)

1/2 doz $11

doz $19

Oysters Rockefeller

½ dozen with spinach cream

$16
Appetizers
Crab Cake

Tobiko-dynamite sauce

$22

Oyster Bar Trash

Blackened shrimp & crabmeat

$22

Fried Calamari

Marinara sauce

$16

Lobster Bites

Tempura & Panko Breadcrumbs

$20

Crab And Spinach Stuffed Shells

Béchamel sauce & Parmesan cheese, roasted red pepper sauce

$15

Seafood Quesadilla

Shrimp, crab, crawfish, pepper jack cheese, served with corn pico relish

$15

Shrimp Cabo

stuffed with pepper jack cheese, wrapped in bacon, pico relish & roasted red pepper sauce

$15

Romano Crusted Asparagus

Crab, tomato bruschetta, lemon butter

$16
Gumbos & Bisques
Seafood Or Shrimp Filé Gumbo

Small $8

Large $11

Chicken & Sausage Gumbo

Small $8

Large $10

Clam Chowder

Small $8

Large $11

Lobster Bisque

Small $10

Large $13

Crab Bisque

Small $8

Large $10
Salads
House Salad

Mixed greens, grape tomatoes, cucumbers, radishes & hearts of palm

$9

Caesar Salad

fresh romaine, Caesar dressing

$11

Iceberg Wedge

Bacon, diced tomatoes, blue cheese crumbles, ranch dressing & homemade balsamic vinaigrette

$12

Shrimp & Crab Salad

Hearts of palm, tomatoes, basil-balsamic glaze & remoulade

$24

Steak Salad

Mixed greens, hearts of palm, red onion, egg, tomatoes, radishes, Parmesan cheese, avocado & Italian vinaigrette

$22

Complement Your Salad

Add 4 Shrimp $8

Add 2 oz. Crab $10

Add Chicken $6
Pastas
Crab & Spinach Stuffed Shells

Béchamel sauce & Parmesan cheese, in roasted red pepper sauce

$24

Shrimp Or Chicken Fettuccine

Creamy Alfredo sauce & fresh roma tomatoes

$21

Frutti Di Mare

Shrimp, scallops, crawfish & calamari tossed with angel hair pasta in a light tomato sauce

$24
Distinctive Dining Menu
Available Sunday Through Thursday Only

$40
Starter
(Choice of one)
Seafood Gumbo

Caesar Salad
Entrée
(Choice of one)
Crab Stuffed Shrimp

Grilled Mahi Mahi

Chicken Romano

Shrimp Giuliani
Dessert
(Choice of one)
Pecan Pie

Chocolate­ Eruption
Today's Fresh Fish Selection
We pride ourselves on serving the freshest fish anywhere. Our Chefs will only prepare fish meeting our rigorous freshness & quality standards. All of our selections are Market price.
Salmon

Tilapia

Mahi Mahi

Tuna

Redfish

Red Snapper
Fresh Fish Specialties
Redfish Louisianne

Blackened, crabmeat, crawfish, mushrooms & lemon shallot butter

$31

Mahi Mahi

Grilled, avocado, roasted tomato salsa, Parmesan risotto, green beans

$31

Blackened Snapper Lafitte

Shrimp, crabmeat, avocado, lemon butter, coconut rice & roasted vegetables

$33

Grilled Salmon Ceretto

Roasted mushrooms, tomatoes, lemon butter, parmesan risotto, green beans

$28

Blackened Catfish Étouffée

Served with white rice & green beans

$24
Shrimp • Shellfish
Fried Shrimp

French fries

$21

Broiled Shrimp

Parmesan risotto

$23

Crab Cake Dinner

Lemon shallot butter & tobiko caviar sauce

$34

Fried Oysters

French fries

$22

Shrimp Cabo

Pepper jack cheese, wrapped in bacon, corn pico relish & roasted red pepper sauce

$21

King Crab Legs

Parmesan risotto & green beans

per MKT

Cold Water Lobster Tail

(8 oz.) Green beans

per MKT

Pan Seared Scallops

Ginger soy sauce, green beans

$35
Platters
Mixed Grill

Crab cake, broiled shrimp, Mahi Mahi, risotto, avocado & grilled salsa

$36

Del Mar

Redfish Francese, Mahi Mahi, avocado, grilled salsa, lemon shallot butter, 3 crab-stuffed shrimp, & Parmesan risotto

$38

Fried Seafood Platter

Catfish, shrimp, stuffed shrimp, Parmesan shrimp & cornmeal oysters

$29

Fried Shrimp And Oysters

Seasoned cornmeal

$22

Shrimp Platter

Shrimp Giuliani, Shrimp Cabo, Crab Stuffed Shrimp & Fried Shrimp

$35

Fried Catfish

Seasoned cornmeal

$21
Steaks • Poultry
Served with mashed potatoes & green beans
Center Cut Top Sirloin

(10oz)

$34

Filet

(8 oz.)

$41

Ribeye

(12 oz.)

$39

Chicken Romano

Pan seared, Romano cheese, panko breadcrumbs, tomato bruschetta & lemon shallot butter

$21

Char-Grilled Chicken Breast

Green beans & coconut-ginger rice

$21

Filet (8 oz.) & Lobster Tail (8 oz.)

Mashed Potatoes

per MKT
Favorite Toppings
Oscar

$11

Crab Blue Cheese Bruschetta

$11
Signature Selections
Crab Stuffed Shrimp

Parmesan risotto & roasted vegetables

$29

Shrimp & Snapper Suga Rosa

Parmesan crusted shrimp & snapper, lump crabmeat, fettuccine in a rosa créme sauce

$29

Shrimp Giuliani

Parmesan-crusted, fresh mozzarella, light tomato sauce

$28

Crawfish Étouffée

served with white rice

$23
Side Dishes
Roasted Vegetables

$6

Asian Green Beans

$6

Parmesan Risotto

$7

Mashed Potatoes

$6

Grilled Asparagus

$9

Creamed Spinach

$9

Loaded Mashed Potatoes

$9

Sautéed Mushrooms

$9
Appetizers
Fried Calamari

Marinara sauce

$12

Seared Peppered Tuna Rolls

Ahi tuna, avocado, cucumber, wasabi cream & soy sauce

$18
Gumbos & Bisques
Chicken & Sausage, Shrimp Or Seafood Gumbo Cup

$8

Clam Chowder Cup

$7

Lobster Bisque Cup

$8
Salads
House Salad

Mixed greens, grape tomatoes, cucumbers, radishes & hearts of palm

$7

Caesar Salad

Fresh romaine, Caesar dressing

$9

Iceberg Wedge

Bacon, diced tomatoes, blue cheese crumbles, ranch dressing & homemade balsamic vinaigrette

$10

Chicken Romano Salad

Bacon, mixed greens, red tomatoes & ranch dressing

$14

Shrimp & Crab Salad

Hearts of palm, tomatoes, basil-balsamic glaze, remoulade

$18

Steak Salad

Mixed greens, hearts of palm, red onion, egg, tomatoes, radishes, Parmesan cheese, avocado & Italian vinaigrette

$16

Complement your salad

Add 4 shrimp $8

Add chicken $6
Fresh Fish Specialties
Fish Tacos

Grilled mahi mahi, shredded cabbage, avocado, roasted salsa & dynamite sauce

$15

Redfish Louisianne

Blackened, crabmeat, crawfish, mushrooms & lemon shallot butter sauce

$25

Fried Tilapia

Served with french fries

$18

Grilled Salmon Ceretto

Roasted mushrooms & tomatoes, served with Parmesan risotto & sautéed green beans

$19

Fried Catfish

Served with french fries

$17

Blackened Catfish Étouffée

Served with white rice and green beans

$18
Lunch Combos
Tea or soft drink included

$18

Salmon & Chowder

Parmesan panko-dusted salmon topped with a dijon-herb house salad. Served with clam chowder

Romano Pesto Sandwich

Romano Chicken, tomatoes, grilled green & yellow squash. Served with Tomato Basil Soup

Mini Giuliani

Parmesan-crusted shrimp topped with melted mozzarella, light tomato sauce & angel hair pasta. Served with Tomato Basil Soup
Signature Sandwiches
with steak fries & onion strings
Signature G's Burger

Avocado, Monterey Jack & cheddar cheese, bacon, lettuce, tomato & red onion

$15

Classic Cheese Burger

Cheddar cheese, lettuce, tomato & red onion

$13

Chicken Romano BLT P

Parmesan-crusted, crisp greens, balsamic mayonnaise & toasted croissant

$12

Shrimp & Avocado

Shrimp & avocado pico de gallo, ranch dressing, toasted croissant

$12

Crab Cake Sliders

Lettuce, tomato, tobiko-dynamite drizzle & Tartar sauce

$17

Shrimp Giuliani Sliders

Parmesan-crusted colossal shrimp, marinara sauce & mozzarella

$18
Lunch Features
Center Cut Sirloin

(7 oz.)

$21

Fried Shrimp

Served with fries

$18

Fried Oysters

Served with fries

$16

Fried Seafood Platter

Catfish, shrimp, stuffed shrimp & Parmesan shrimp

$19

Fried Shrimp & Oysters

Served with fries

$18

Crab & Spinach Stuffed Shells

Parmesan cheese, béchamel & roasted red pepper sauce

$16

Shrimp Or Chicken Fettuccine

Creamy Alfredo sauce, fresh roma tomatoes

$18

Chicken Romano

Pan seared, Romano cheese, panko breadcrumbs, tomato bruschetta & lemon shallot butter sauce

$18

Char-Grilled Chicken Breast

Sautéed green beans & coconut-ginger rice

$16
Champagne & Sparkling
La Marca, Prosecco

$9

Moët & Chandon, Impérial

$19

Pere Ventura Tresor, Brut Reserva Cava

$12
Chardonnay
Hess 'Select'

$10

Josh Cellars

$9

Rodney Strong 'Chalk Hill'

$12
Pinot Grigio & Pinot Gris
Estancia

$11

Meridian Vineyards

$7

Santa Cristina

$9
Unique Whites
Beringer, White Zinfandel

$6

Mirassou, Moscato

$9

Pierre Sparr, Riesling

$11

The Palm, Rosé

$10
Sauvignon Blanc
BV 'Coastal'

$10

Whitehaven

$12
Cabernet Sauvignon & Proprietary Blends
Alexander Valley Vineyards

$11

Decoy by Duckhorn

$14

Hogue Cellars

$9
Interesting Reds
Alamos Seleccion, Malbec

$13

Barossa Valley Estate, Shiraz

$9
Pinot Noir
Chateau Souverain

$9

Coppola 'Votre Sante'

$9

J. Lohr 'Falcons Perch'

$11

Kendall-Jackson 'Vintner's Reserve'

$11

Trinity Oaks

$6
Champagne & Sparkling
Domaine Chandon, Blanc Dé Noirs

Carneros

$35

Moët & Chandon, Dom Pérignon, Brut

Épernay

$295

Moët & Chandon, Impérial, Brut

Épernay

$75

Pere Ventura Tresor Brut Reserve Cava

Penedes

$47
Chardonnay
Bonterra Vineyards

Mendocino County

$25

Cakebread Cellars

Napa Valley

$75

Far Niente Winery

Napa Valley

$88

Ferrari-Carano Winery

Alexander Valley

$40

Frei Brothers

Sonoma County

$33

Glass Mountain

California

$20

Hess 'Select'

Monterey

$39

Jordan Vineyard & Winery

Sonoma

$60

Josh Cellars

North Coast

$35

Rodney Strong 'Chalk Hill'

Chalk Hill

$47

Sonoma-Cutrer

Sonoma Coast

$36
Pinot Grigio & Pinot Gris
Estancia, Pinot Grigio

California

$43

King Estate, Pinot Gris

Oregon

$32

Meridian Vineyards, Pinot Grigio

California

$27

Mezzacorona, Pinot Grigio

Italy

$31

Placido, Pinot Grigio

Italy

$24

Santa Cristina, Pinot Grigio

Italy

$35

Santa Margherita, Pinot Grigio

Alto Adige

$45
Sauvignon Blanc
BV 'Coastal'

California

$39

Drylands

Marlborough

$28

Whitehaven

Marlborough

$47
Unique Whites
Beringer, White Zinfandel

California

$23

Conundrum, Blend

California

$40

Chateau Ste. Michelle, Riesling

Columbia Valley

$22

Mirassou, Moscato

California

$35

Pierre Sparr, Riesling

Alsace

$43

The Palm by Whispering Angel, Rosé

France

$39

Trimbach, Pinot Blanc

Alsace

$33

Wente, Riverbank, Riesling

Arroyo Seco

$24
Cabernet Sauvignon & Proprietary Blends
Alexander Valley Vineyards

Alexander Valley

$43

Benziger

Sonoma County

$42

Clos Du Val 'Stags' Leap'

Stags Leap District

$60

Conn Creek

Napa Valley

$45

Decoy by Duckhorn

Sonoma

$55

Franciscan 'Magnificat'

Napa Valley

$75

Freemark Abbey Winery

Napa Valley

$60

Hogue Cellars

Columbia Valley

$35

J. Lohr 'Hilltop'

Paso Robles

$48

J. Lohr 'Seven Oaks'

Paso Robles

$27

Jordan Vineyard & Winery

Alexander Valley

$90

Joseph Phelps 'Insignia'

Napa Valley

$330

Red Diamond

Washington

$25

Silver Oak Cellars

Alexander Valley

$110

Stags' Leap Winery

Napa Valley

$120
Merlot
14 Hands

Washington

$31

Kenwood Vineyards

Sonoma County

$35

Mirassou Winery

California

$27
Pinot Noir
Chateau Souverain

California

$35

Coppola 'Votre Sante'

California

$35

J. Lohr 'Falcons Perch'

Monterey

$43

J Vineyards

California

$60

Kendall-Jackson 'Vintner's Reserve'

California

$43

Meiomi

California

$52

Trinity Oaks

California

$23
Interesting Reds
Alamos Seleccion, Malbec

Mendoza

$51

Barossa Valley Estate, Shiraz

California

$35

Estancia 'Reserve', Meritage

Paso Robles

$48

Salentein 'Reserve', Malbec

Argentina

$41
Happy Hour
MONDAY-FRIDAY•11AM-7PM

AVAILABLE IN BAR & OUTSIDE LOUNGE ONLY
$6 Martinis
Cosmopolitan

vodka, orange liqueur, lime and cranberry juice

Sour Apple Martini

sour apple liqueur, vodka and gin

Mango Martini

vodka, mango puree and orange juice

Mexican Martini

tequila, orange liqueur and sweet & sour

Lemon Drop Martini

vodka, orange liqueur and lemon juice
$5.50 Cocktails
Mango Mojito

Strand Swirl

Mai Tai
$5 Frozen Margaritas
Mango

Strawberry

Melon

Raspberry
$5 Taste Of The Grape
Hogue Cabernet Sauvignon

Beringer White Zinfandel

Wente Riverbank Riesling

Glass Mountain Chardonnay

Mirassou Merlot

Meridian Pinot Grigio

BV 'Coastal' Sauvignon Blanc
$5 Well Cocktails
Vodka

Gin

Rum

Tequila

Bourbon

Scotch
Draft Beer
Stella Artois

$4

Seasonal

$3.50

Bud Light

$3
Bottled Beer
Domestic Bottle

$3

Premium Domestic / Import Bottle

$3.25
$7
Fried Calamari

Traditional style served with marinara sauce

Buffalo Shrimp

Served with ranch dressing

Buffalo Chicken Nuggets

Served with ranch dressing

Seafood Quesadilla

Shrimp, crab and crawfish with melted Pepper Jack cheese in a tortilla, served with corn pico relish
$9
Seared Tuna

Seared peppered tuna, sliced avocados and wasabi cream

Crab & Spinach Stuffed Shells

Rich and creamy, topped with béchamel sauce and Parmesan cheese, in a roasted red pepper sauce

Shrimp Cabo

Shrimp stuffed with Pepper Jack cheese, wrapped in Applewood bacon and lightly fried, served with corn pico relish and roasted red pepper sauce

Steak Tacos

Served with corn tortillas
Shrimp Boil
Peel & Eat (spicy hot)

From the pot to you!

¼ lb $5

½ lb $10

1 lb $15
Availability
MONDAY – FRIDAY • ALL DAY

AVAILABLE IN BAR & OUTSIDE LOUNGE ONLY
$7
The Twins

2 burger sliders & fries

Fries & Friends

Served with 4 fried shrimp
$9
Cold Shrimp & Oysters

4 of each

Meatballs

Homemade meatballs with melted mozzarella and mushrooms
$10
Oysters on the 1/2 shell

(8 each)

Cold Shrimp

(8 each)

Shrimp Diablo

Shrimp stuffed with jalapenos & cheese, wrapped with bacon

Hot Seafood Dip

3 cheeses served with tortilla chips
$15
Steak 7 Shrimp

Grilled

Blue Crab Bites

Sriracha Aioli
$22
Mini Classic Surf & Turf

3 oz. tenderloin & 3 oz. lobster tail

Two Tails

2 - 3oz. Brazilian lobster tails